Cathay Financial Holding has a total of 272 patents globally, out of which 219 have been granted. Of these 272 patents, more than 97% patents are active. Taiwan is where Cathay Financial Holding has filed the maximum number of patents, followed by China and USA. Taiwan seems to be the main focused R&D center and is also the origin country of Cathay Financial Holding.
Cathay Financial Holding was founded in 2001 by Tsai Wan-lin. The company doing business in Financial Services industry. The Company offers range of services in Finance, Financial Services and Fintech. As of November 2021, Cathay Financial Holding has a market cap of $788.83 Billion.
Do read about some of the most popular patents of Cathay Financial Holding which have been covered by us in this article and also you can find Cathay Financial Holding's patents information, the worldwide patent filing activity and its patent filing trend over the years, and many other stats over Cathay Financial Holding's patent portfolio
How many patents does Cathay Financial Holding have?
Cathay Financial Holding has a total of 272 patents globally. These patents belong to 261 unique patent families. Out of 272 patents, 263 patents are active.
How many Cathay Financial Holding patents are Alive/Dead?
Worldwide Patents
Patent Families
How Many Patents did Cathay Financial Holding File Every Year?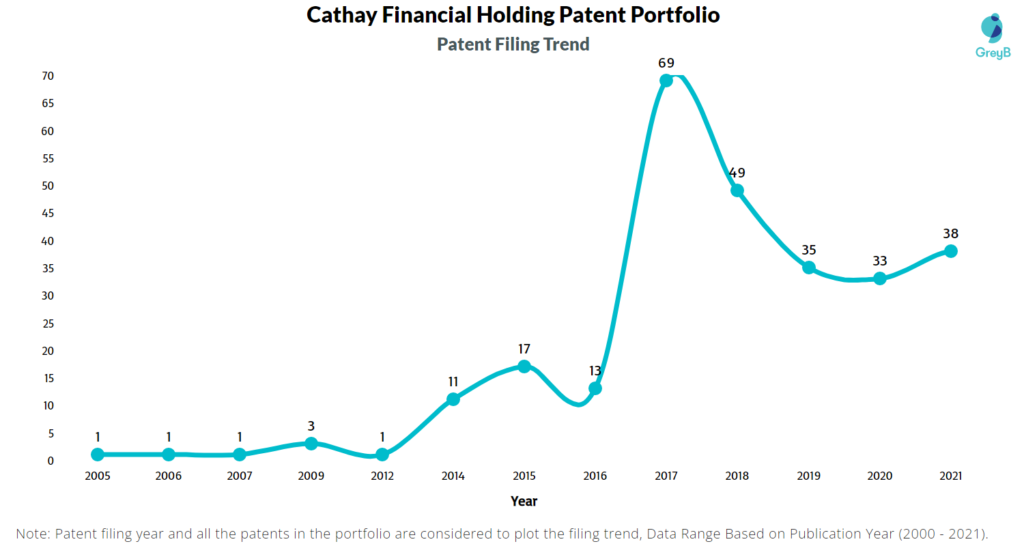 Are you wondering why there is a drop in patent filing for the last two years? It is because a patent application can take up to 18 months to get published. Certainly, it doesn't suggest a decrease in the patent filing.
| | | |
| --- | --- | --- |
| Year of Patents Filing or Grant | Cathay Financial Applications Filed | Cathay Financial Patents Granted |
| 2011 | – | 1 |
| 2012 | 1 | 2 |
| 2013 | – | 2 |
| 2014 | 11 | 14 |
| 2015 | 17 | 6 |
| 2016 | 13 | 39 |
| 2017 | 69 | 62 |
| 2018 | 49 | 28 |
| 2019 | 35 | 22 |
| 2020 | 33 | 28 |
| 2021 | 38 | 9 |
How Many Patents did Cathay Financial Holding File in Different Countries?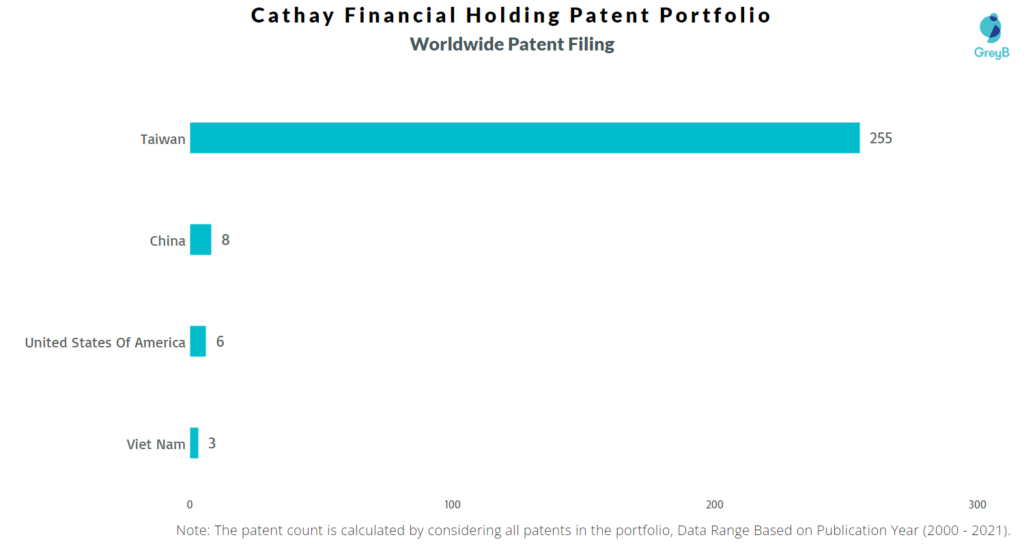 Countries in which Cathay Financial Holding Filed Patents
| | |
| --- | --- |
| Country | Patents |
| Taiwan | 255 |
| China | 8 |
| United States Of America | 6 |
| Viet Nam | 3 |
Where are Research Centers of Cathay Financial Holding Patents Located?
10 Best Cathay Financial Holding Patents
TWM554608U is the most popular patent in the Cathay Financial Holding portfolio. It has received 17 citations so far from companies like Alibaba Group and Advanced New Technology Ltd.
Below is the list of 10 most cited patents of Cathay Financial Holding:
Cathay FHC is undergoing a digital, data, and technology-driven corporate transformation, and is aggressively cultivating a data-driven culture, with the goal of becoming a technology firm with Cathay-as-a-Service (CaaS) at its core. The organization intends to move away from product-focused business models and toward customer-focused business models. It is collaborating with industry partners to provide financial services that suit consumer expectations, forming a comprehensive ecosystem powered by data, technology, and digital to create the future of finance.
Cathay FHC Center and Cathay Century's Digital, Data & Technology (DDT) team uses "the platform framework for fragmented insurance goods" to establish "BeSafe," the industry's first e-commerce experiential platform. The platform employs a micro-service middle platform and a corporate information integration structure to provide a more flexible capability for supporting the development of innovative businesses, as well as fragmented products and over 30 insurance options, allowing customers to freely choose the insurance that best suits their needs when going out or commuting to work.
By launching the "Internet of Electric Vehicles Blockchain Financial Platform" in 2020, Cathay FHC was the first in the industry to get involved in the Internet of Vehicles. With the agreement of the owner, the platform encrypts data and stores evidence using blockchain, and accesses driving data from electric vehicles, including driving duration, time, speed, distance, and braking. Cathay FHC plans to connect the platform to Cathay Century and CUB's insurance and financial services to offer car owners faster and more convenient services like loan applications, insurance claims, and personalised product recommendations, all of which will improve internal operating procedures and provide a better customer experience.
What are Cathay Financial Holding's key innovation segments?
What Technologies are Covered by Cathay Financial Holding?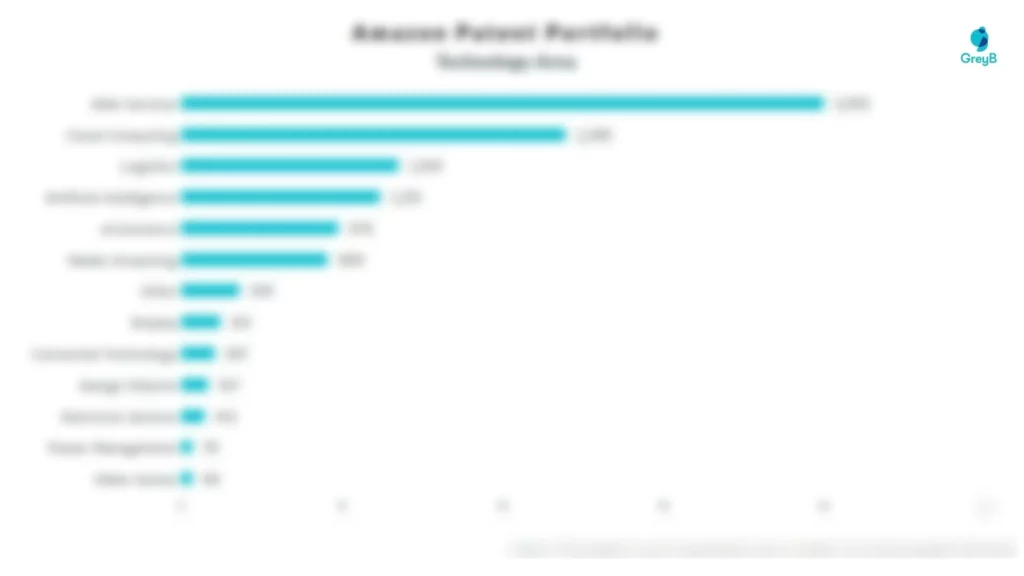 The chart below distributes patents filed by Cathay Financial Holding in different countries on the basis of the technology protected in patents. It also represents the markets where Cathay Financial Holding thinks it's important to protect particular technology inventions.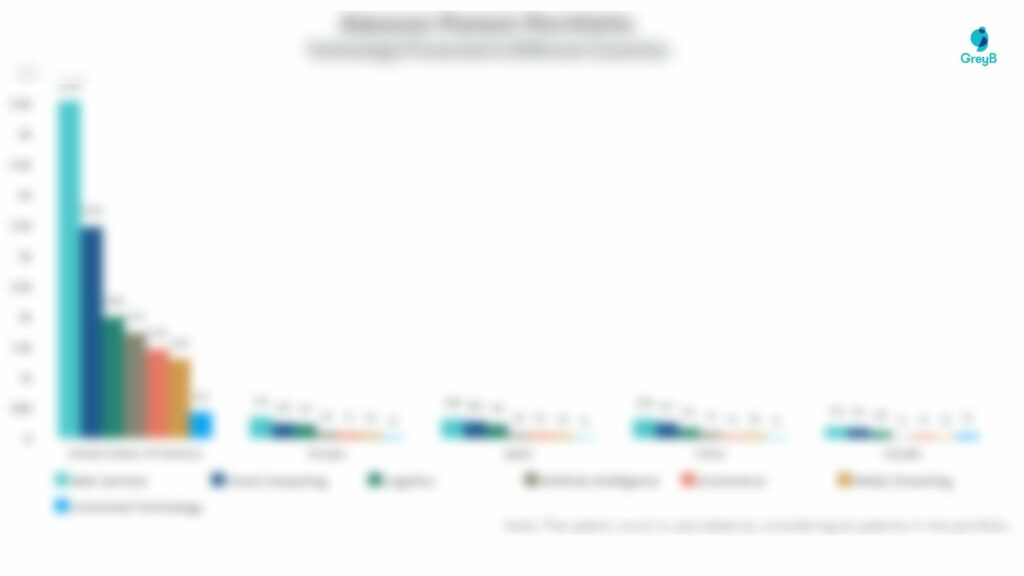 R&D Focus: How Cathay Financial Holding research focus changed over the years?