Maxar Technologies has a total of 77 patents globally, out of which 58 have been granted. Of these 77 patents, more than 77% patents are active. Europe is where Maxar Technologies has filed the maximum number of patents, followed by USA and Germany, it has generated an annual revenue of $1.77 billion in the year 2021. Parallelly, USA seems to be the main focused R&D center and is also the origin country of Maxar Technologies.
Maxar Technologies was founded in the year 2017 by John S. MacDonald and Werner (Vern) Dettwiler. The corporation, based in Colorado, specialises in manufacturing communication, Earth observation, radar, and on-orbit servicing satellites, satellite equipment, and related services. As of April 2022, Maxar Technologies has a market cap of $2.72 Billion.
Do read about some of the most popular patents of Maxar Technologies which have been covered by us in this article and also you can find Maxar Technologies' patents information, the worldwide patent filing activity and its patent filing trend over the years, and many other stats over Maxar Technologies' patent portfolio.
How many patents does the CEO of Maxar Technologies have?
The CEO, Daniel L. Jablonsky, has 0 patents.
How many patents does Maxar Technologies have?
Maxar Technologies has a total of 77 patents globally. These patents belong to 38 unique patent families. Out of 77 patents, 60 patents are active.
How Many Patents did Maxar Technologies File Every Year?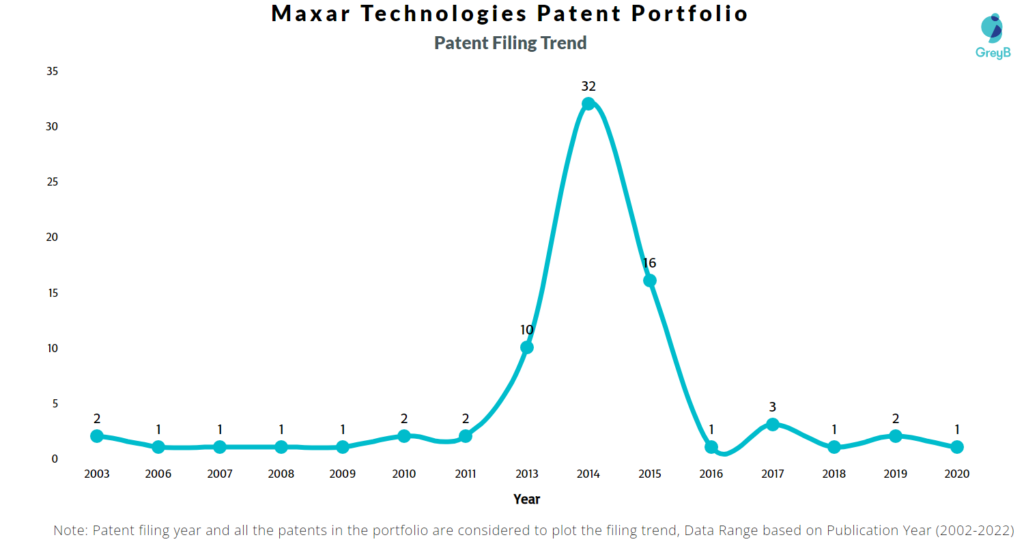 Are you wondering why there is a drop in patent filing for the last two years? It is because a patent application can take up to 18 months to get published. Certainly, it doesn't suggest a decrease in the patent filing.
| | | |
| --- | --- | --- |
| Year of Patents Filing or Grant | Maxar Technologies Applications Filed | Maxar Technologies Patents Granted |
| 2011 | 2 | 3 |
| 2012 | – | – |
| 2013 | 10 | 2 |
| 2014 | 32 | – |
| 2015 | 16 | – |
| 2016 | 1 | – |
| 2017 | 3 | 10 |
| 2018 | 1 | 12 |
| 2019 | 2 | 8 |
| 2020 | 1 | 12 |
| 2021 | – | 5 |
How many Maxar Technologies patents are Alive/Dead?
Worldwide Patents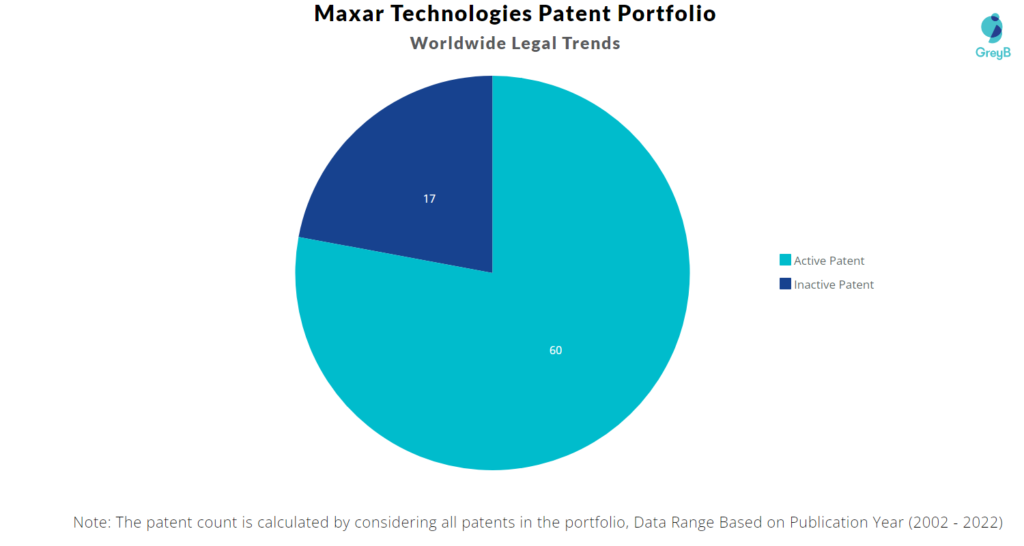 How Many Patents did Maxar Technologies File in Different Countries?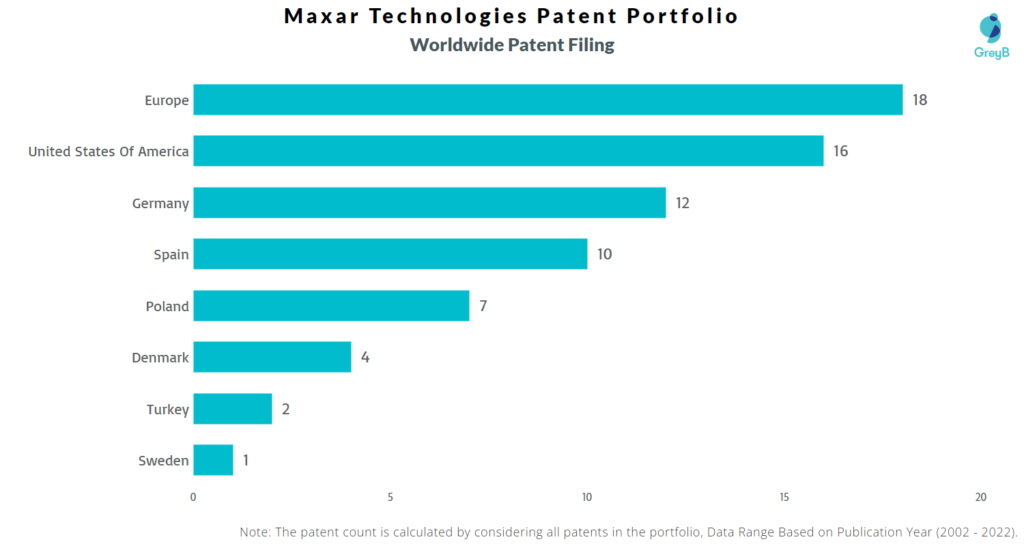 Where are Research Centres of Maxar Technologies Patents Located?
10 Best Maxar Technologies Patents
US7218268B2 is the most popular patent in the Maxar Technologies portfolio. It has received 29 citations so far from companies like Boeing, Honeywell, and The United States Of America as Represented by the Secretary Of The Navy.
Below is the list of 10 most cited patents of Maxar Technologies:
Maxar Technologies is a $2.2 billion space technology company that offers satellite pictures as well as expert intelligence services. Maxar helps customers comprehend and better navigate the changing globe, as well as supply global broadband communications, by providing spacecraft and robotics for space exploration, research, and national security.
The company is a world leader in high-resolution Earth observation photography and analytics from space. In 1999, it launched the world's first commercial high-resolution imaging satellite, and it now has a four-satellite imaging constellation. It also offers geospatial services that integrate images, analytic skills, and cutting-edge technology to give customers with intelligence solutions.
Survey using Deep Learning: Aerial counts from manned aeroplanes are currently the most prevalent elephant population survey approach in savannah environments. However human errors can affect these surveys negatively.SoMaxar's WorldView-3 satellite imagery was combined with deep learning (TensorFlow API, Google Brain) to detect elephants from space with accuracy comparable to human detection capabilities.
EXCLUSIVE INSIGHTS COMING SOON!
What are Maxar Technologies key innovation segments?
What Technologies are Covered by