Stradvision develops camera-based software technologies to equip automotive manufacturers with robust and flexible ADAS and making self-driving vehicles approachable, reliable, and viable to everyone.
The company is currently valued at $42.2 million with its offices operational in the USA and South Korea. It is currently working on a number of technologies with global automobile makers in countries like Germany, China, Japan, Korea.
Its proprietary software, SVNet is deep learning and camera-based embedded network/algorithm that enables cameras to execute high-level functions such as Object Detection, Lane Detection, Free Space Detection, Distance Estimation, and much more. Also, the software is small and lean thus having the ability to do more things for ADAS and autonomous vehicles with high accuracy.
How many patents does StradVision have?
The patent portfolio of Stradvision has 873 active patents that belong to 155 patent families. The sections below offer insights into Stradvision patents.
What technologies are protected by StradVision Patents?
The chart below divides 155 patent families of Stradvision into different technology clusters. More details on these clusters are here: Technological Profile of StradVision Patents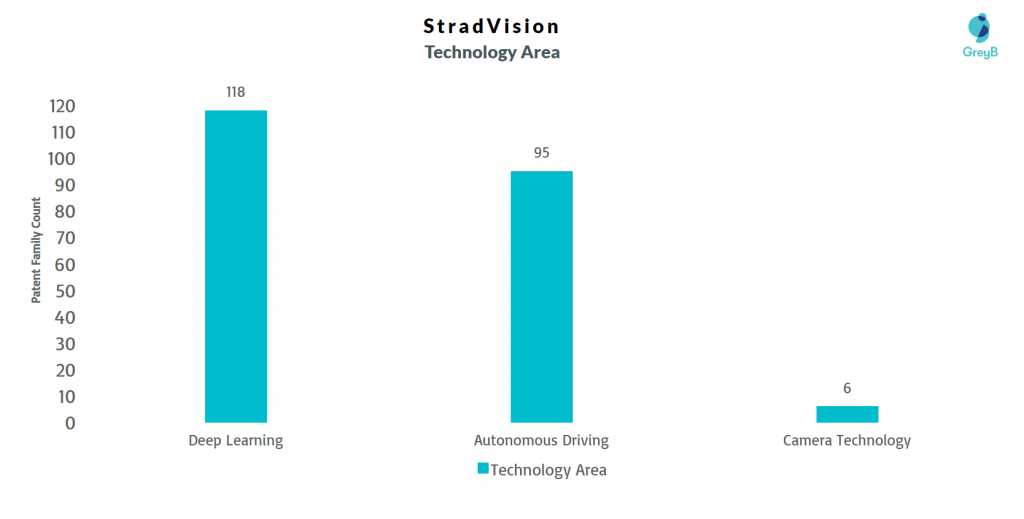 How Many Stradvision Patents are Alive/Dead?
Worldwide Patents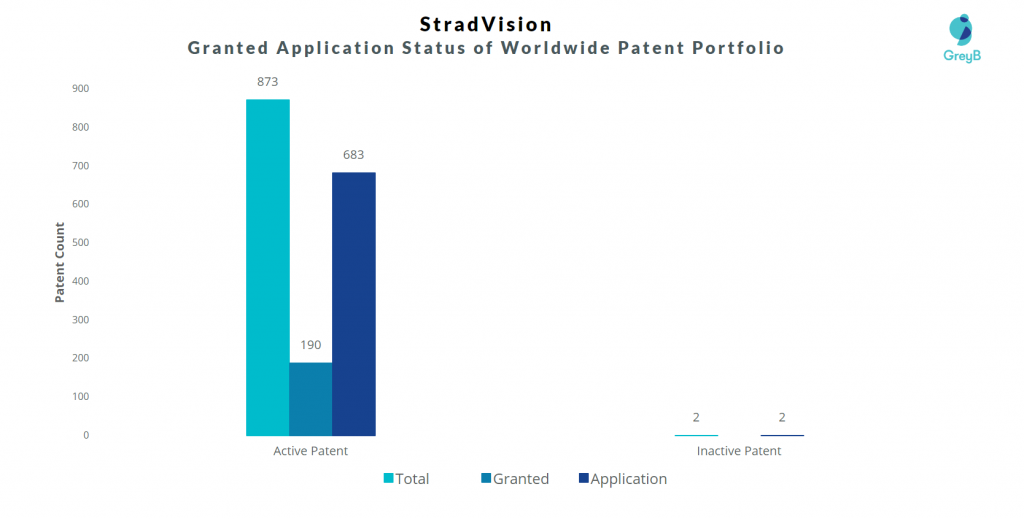 Patent Families
How Many Patents did StradVision File Every Year?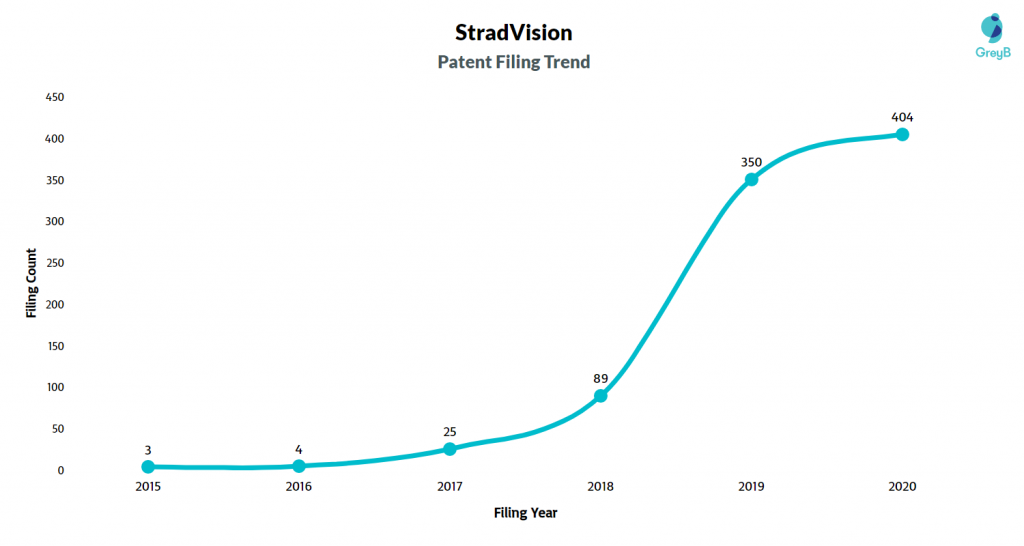 How Many Patents did StradVision File in Different Countries?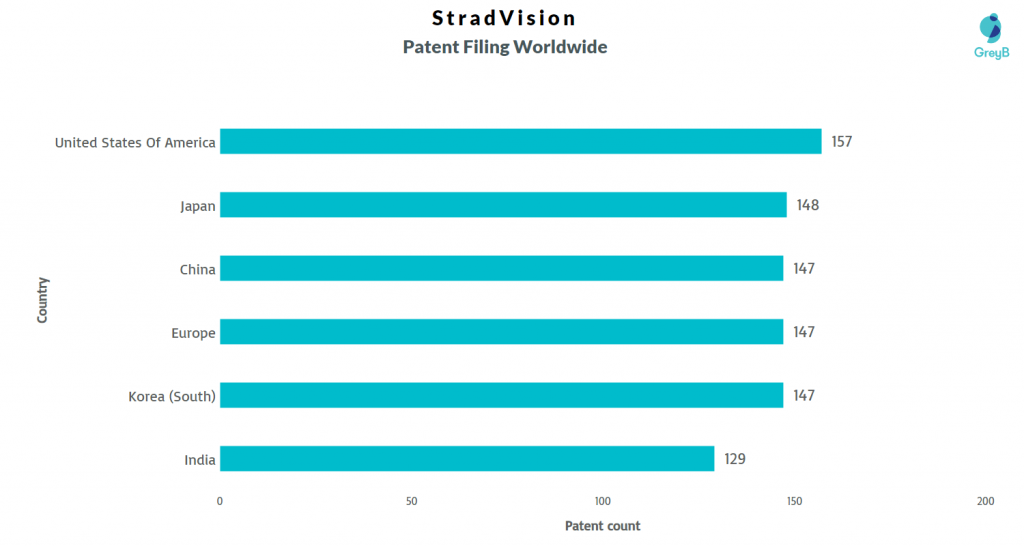 Where are Research Centers of StradVision Located?
The chart below is plotted by considering the country where an invention in a patent family was introduced for the first time. In turn, this helps find the R&D centers across the globe and lets us peek into the kind of research going on in a particular country.
The chart below distributes patents filed by StradVision in different countries on the basis of the technology protected in patents. It also represents the markets where StradVision thinks it's important to protect particular technology inventions.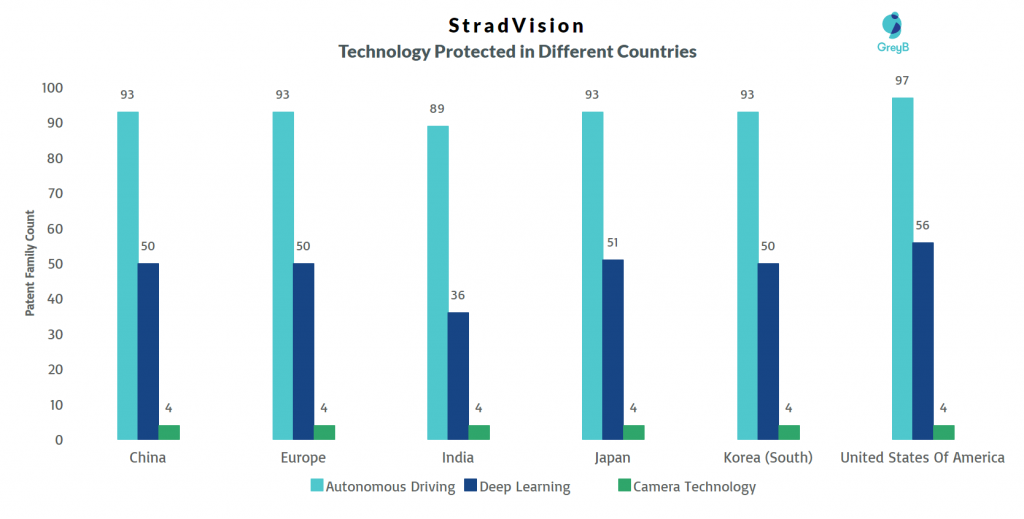 How R&D Direction of Stradvision Changed Over the Years?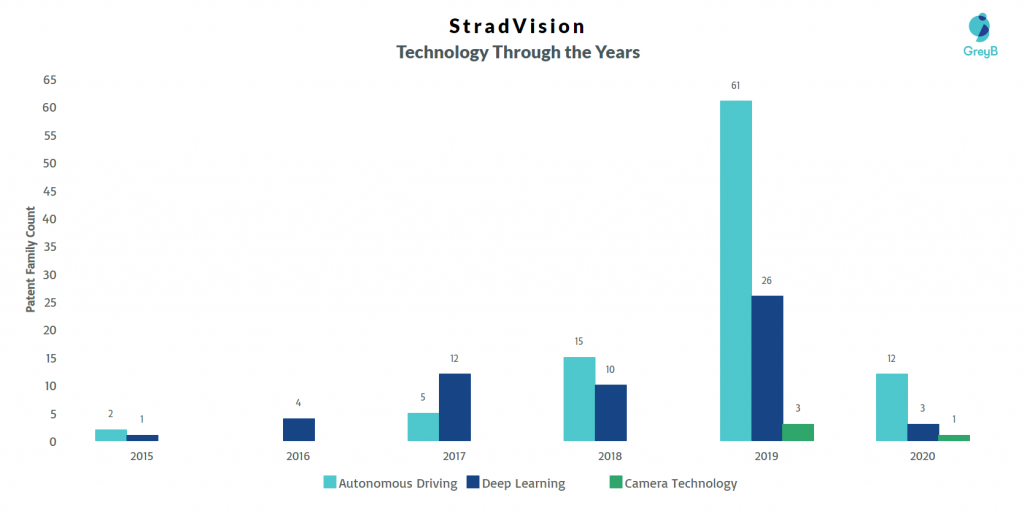 10 Most Popular Patents in Stradvision Portfolio
US10169679B1 is the most popular (cited 27 times) patent of StradVision. It received citations from companies like Didi Res America LLC and Beijing Didi Infinity Technology. The patent has family members in United States, China, Japan, and Korea.
Below is the list of 10 most cited patents of StradVision:
| | |
| --- | --- |
| Publication Number | Count of Citing Patents |
| US10169679B1 | 27 |
| US10007865B1 | 17 |
| US10095977B1 | 15 |
| US10229346B1 | 14 |
| US9934440B1 | 14 |
| US9947228B1 | 12 |
| US10223614B1 | 11 |
| US9946960B1 | 11 |
| US10043113B1 | 9 |
| US10089743B1 | 6 |
What is the Success Rate of Stradvision at the USPTO?
StradVision has filed 156 patent applications at USPTO so far (Excluding Design and PCT applications) and has maintained a 100% grant rate so far. Below are the key stats of Stradvision's patent prosecution at the USPTO.

Which law firms prosecuted most patents for StradVision in the USA?
| | | |
| --- | --- | --- |
| Law Firm | Total Apps | Allowance Rate |
| Husch Blackwell LLP | 104 | 100.0% |
| KBS Law International | 25 | 100.0% |
| Xsensus LLP | 24 | 100.0% |
| Fisherbroyles LLP | 2 | 100.0% |
| Taft Stettinius & Hollister LLP | 1 | 100.0% |